HotSpot Server pe Mikrotik
De reținut că dacă se doresc useri se va folosi cpu și ram al mikrotik-ului, iar un 750 nu ține mai mult de 50 useri.
– intrăm în IP / Hotspot și dăm click pe Hotspot Setup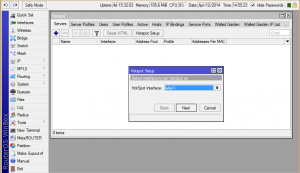 – Alegem interfața pe care vrem să ruleze hotspotul, poate fi aleasă orice interfață.. noi alegem interfața wifi, recte wlan1.
– Dăm next și lăsăm clasa default:
– Lăsăm și pool-ul care alocă automat:
– Nu alegem nici un certificat:
– și nici un SMTP server:
– Punem ca DNS pe el însuși:
– și dăm un nume hotspot-ului:
– și creăm primul user:
– și avem hotspot-ul funcțional:
– Acum dacă vă autentificați printr-un wireless ar trebui să vă ceară numele și parola.
– Dacă funcționează fără user și parola, verificați să nu fie în bridge adăugat și wlan1
– Deoarece se consumă foarte mult CPU când traficul este trecut prin proxy, verificați dacă aveți opțiunea transparent-proxy nebifată: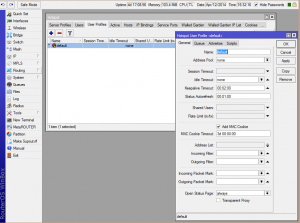 The HotSpot Gateway provides authentication for clients before access to public networks .
HotSpot Gateway features:
different authentication methods of clients using local client database on the router, or remote RADIUS server;
users accounting in local database on the router, or on remote RADIUS server;
walled-garden system, access to some web pages without authorization;
login page modification, where you can put information about the company;
automatic and transparent change any IP address of a client to a valid address;
RouterOS is the operating system of RouterBOARD hardware. It can also be installed on a PC and will turn it into a router with all the necessary features – routing, firewall, bandwidth management, wireless access point, backhaul link, hotspot gateway, VPN server and more.
---
Ultimele știri:
http://blog.panait.us/wp-content/uploads/2017/02/264-2.png
0
0
geolgau
http://blog.panait.us/wp-content/uploads/2017/02/264-2.png
geolgau
2014-04-12 13:56:38
2014-05-03 13:29:36
HotSpot Server pe Mikrotik